Welcome To Matthew's Place on the Web
About Me
So you have found your way to my personal space on the world wide web. Welcome!

I'm assuming you made your way here through personal contact with me and therefore already know a bit about me, but just in case you found your way here through some other means let me give you a bit of info about me.
I live in Versailles, Kentucky, a small town of about 8,000 people located in central Kentucky just west of Lexington and a bit south of the capital, Frankfort. I was born and raised in Lexington, however, and consider Lexington to be my real home.
After graduating High School in 1986 I attended Sullivan College in Louisville where I earned an Associates degree in Computer Programming with a minor in Business Management. The time I spent in Louisville was the most exciting time of my life. College was a blast.
After graduating college I moved back to Lexington and got a job managing a local mom & pop computer store. I worked there for about 3 years but eventually left for a career at the University of Kentucky where I still work as an Administrative Support Associate.
That's about as brief of a history as I can give.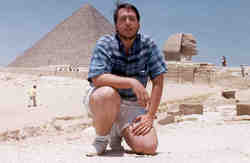 Feel free to drop me an e-mail at: FaTeke@msn.com
I have a small family really. There's my mother Glenda, my father Herbert, my older Brother Eric and his five kids and my Aunt Elaine.
My parents have always been self-employed. My father is a retired horse trainer and my mother runs a successful Day Care center in Versailles. My parents also own and run Rabbit Creek Bed & Breakfast which has been operating since 1997.
My brother is Eric Reed and he is a prominent horse trainer here in Kentucky. He and his wife have 4 children, Jessica, Lindsy, Hunter and Martha. He also has another daughter, Shelby, from a pervious marriage. She has recently moved out-of-state with her mother and we all miss her a lot.
I have one Aunt, Elaine Shryock, from my mother's side. She has been an educator for most of her life but now runs a successful Insurance Agency and is semi-retired.
That is most of my family in a nut shell.
You may have noticed that I haven't mentioned my Father's side of the family. That's because that is a complicated situation, I have many aunts and uncles on his side of the family but due to issues between my father and his father we have had very little to do with them over the years. I know his sister, Brenda a little bit and she is a very nice woman, and I know of the others but have met very few of them.
My Hobbies and Likes
I don't have many hobbies to speak of. What I tend to do is get really into something and start collecting, eventually get bored of that something and sell of my collection.
One of my true hobbies is writing. I've been writing short stories and really bad poetry since I was in elementry school. It's one of the few things I think I'm pretty good at.
About 12 years ago I created a fictional world called FaTeke (pronounced fa-teak) for which I had a grand plan to write a trilogy of novels in and make my fame and fortune. Alas, those dreams have never come true but I have created many short stories that take place in this world and have the political system, religious beliefs and history of the world flushed out on paper.
If you are interested in reading some of my writing look at the top of this page on the left hand side, I've got several short stories and really bad poetry listed there. :)